1 Haters on Sat Jul 07, 2012 9:19 am
Thomas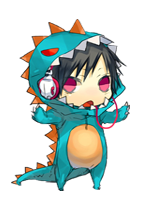 Admin
As they say "haters gonna hate"
People who play online games and makes clients/bots/scripts/etc and such get mad when they see a new kid doing it. Why? Because they've been doing it for quiet some time and their getting mad seeing someone else do it. It's just the way of the world now of days. Almost every things shown on games aren't skills it just takes some knowledge. Remember everyone starts off new in some way. Just wait time and they'll get better or just give up. So this site was my first domain site I've ever made. Not great right? I'll just keep trying till I get a good one or I can just give up. I'd rather not give up but who's to say what will happen.

Now for the term "skiddie" that's just lame honestly. Now anyone or scripts in a way used to be a "skiddie" now didn't they? Now if anyone has some BS to say that they weren't ever one it's just so lame excuse that I don't really want to see/read.

For haters or whatever you want to call yourself if someone wants to become new or start something give the a chance besides being so dick or asshole to them going "oh you cant do shit noob". Like that is some advice they can use?

Just give someone a chance at someone.
___________________________________________

Thomas • Forum Owner - Administrator • Support by PM - Also use the forums please.